Christmas Message from General Manager Bryan Skepper
With the busiest time of year for seafood upon us, I'd like to take a moment to wish all of our industry friends and valued customers a very Merry Christmas and a happy new year. It has been eventful year with challenges and triumphs for many in the industry. This year the challenges of fishing reforms and marine park rezoning continued, with many from the seafood industry also feeling the impact of drought and fires affecting parts of Australia. Despite adversity, it was encouraging to see so many organisations and individuals rally together.

A significant milestone for SFM was the unveiling of the design of the new Sydney Fish Market in November. More details about the project and an informational video can be found on the UrbanGrowth NSW Development Corporation website HERE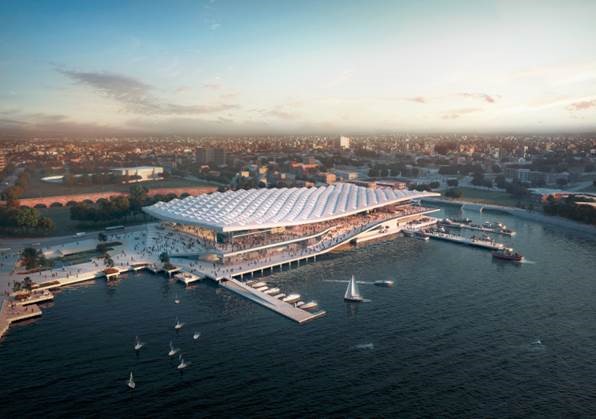 The seafood spectacle that is SFM's 36-Hour Seafood Marathon returns for its 23rd year. Starting at 5am on Sunday 23rd December and continuing for non-stop trade until 5pm on Christmas Eve, we're preparing for over 100,000 shoppers and 700 tonnes of seafood traded across the site for Christmas.
As we knuckle down in preparation for the final and busiest weeks of the year I'd like to thank everyone for their hard work and dedication. All the best to everyone for the lead up to Christmas, especially those of you involved in SFM's 36-Hour Seafood Marathon!
World Fisheries Day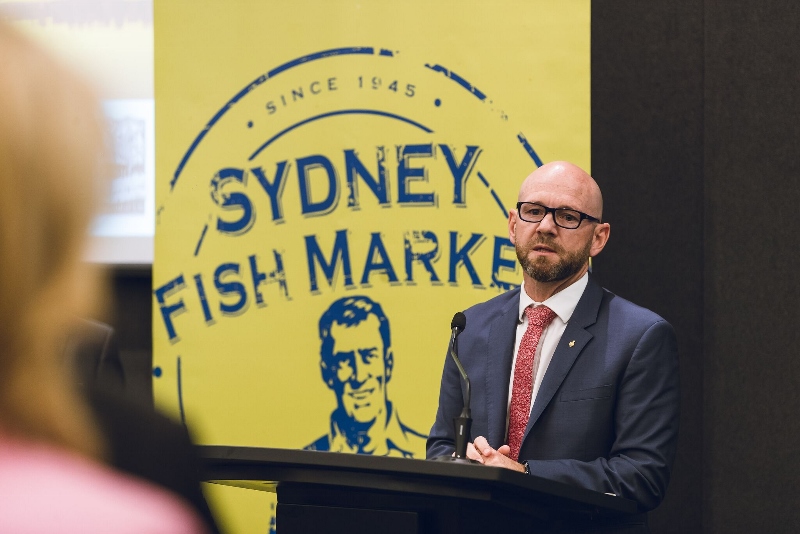 SFM celebrated World Fisheries Day, held annually on 21 November, with the New South Wales Seafood Industry Council at the inaugural 'Friends of Seafood' event, co-hosted by Minister for Primary Industries, Minister for Regional Water, and Minister for Trade and Industry, The Hon. Niall Blair, MLC and Shadow Minister for Primary Industries, Shadow Minister for Lands, and Shadow Minster for Western NSW, The Hon. Mick Veitch, MLC at NSW Parliament House. The event aimed to connect the seafood industry with parliamentarians while celebrating NSW seafood and the hard-working people that supply it.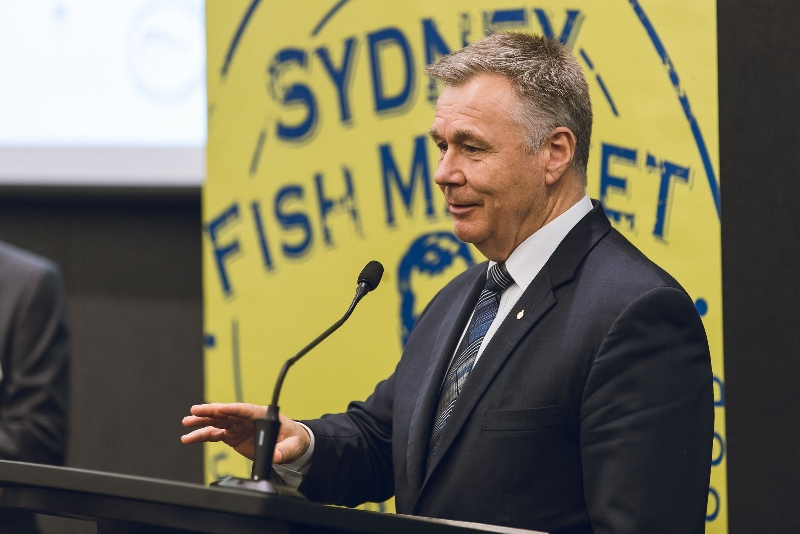 The event was also an opportunity for SFM to formally announce the winner of the $10,000 SFM environmental grant for 2019.

The grant, which is part of Sydney Fish Market's ongoing commitment to sound environmental management, has been awarded to Graeme and Phillip Byrnes of Great Lakes Fisheries, in recognition of their continued efforts to sustainable practices and leadership.
The funds will go towards the installation of a 13.5Kw solar panel system at the Great Lakes Fisheries depot, in a bid to reduce emissions and cut down the ever-increasing cost of electricity that comes with GLF's provision of free ice to its suppliers which could be threatened due to rising costs.
Through the installation of a solar panel system, GLF will be able to off-set carbon emissions going into the atmosphere, which strengthens the wider NSW fishing industry's stance as a clean, green sustainable industry. By continuing to provide its suppliers with free ice,Great Lakes Fisheries encourages better seafood preservation in the initial stages of capture. This helps to ensure a longer shelf-life and better quality seafood for consumers due to less spoilage.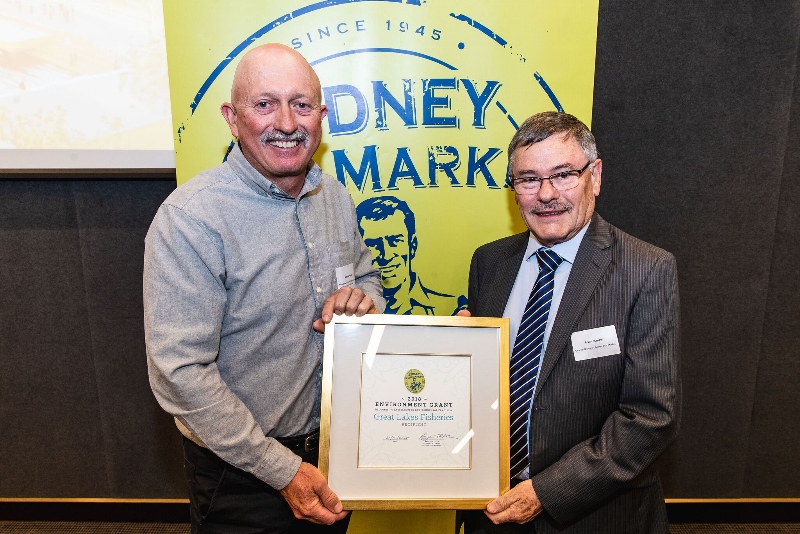 National Party of Australia Annual Seafood BBQ Luncheon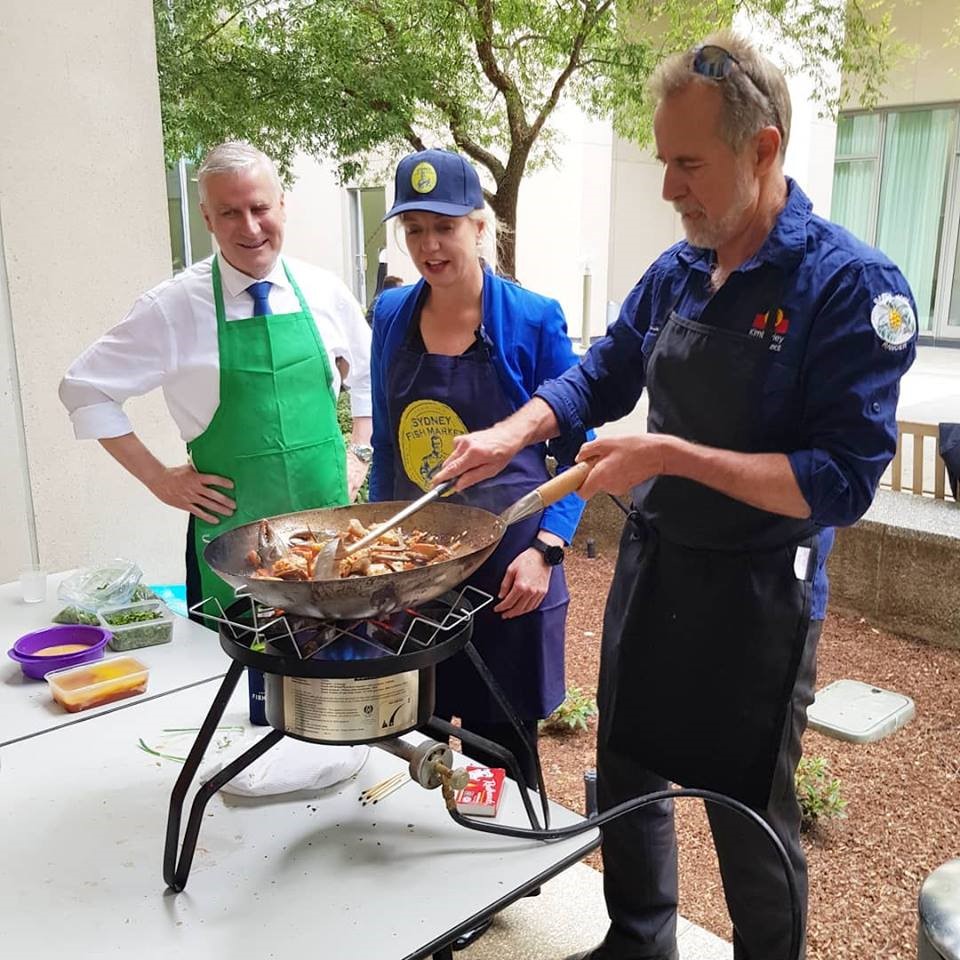 The National's Annual Seafood Luncheon at Parliament House was held on 5th December, with Bryan Skepper and Graeme Turk representing SFM on cooking duties. SFM partnered with Coffs Harbour Fishermen's Cooperative in providing Eastern King Prawn and Yellowtail Kingfish skewers that were accompanied by barbequed Crab, Barramundi, Scallops, Swordfish, Crocodile, Buffalo sausages and more.
The event is a showcase of Australian seafood and game products prepared for members of the National Party and parliamentary media to enjoy while they meet with representatives from the seafood and game industries. The event is a rare opportunity for industry representatives to keep the issues and importance of the Australian seafood industry at the foremind of the nation's leaders.
National Seafood Industry Leadership Program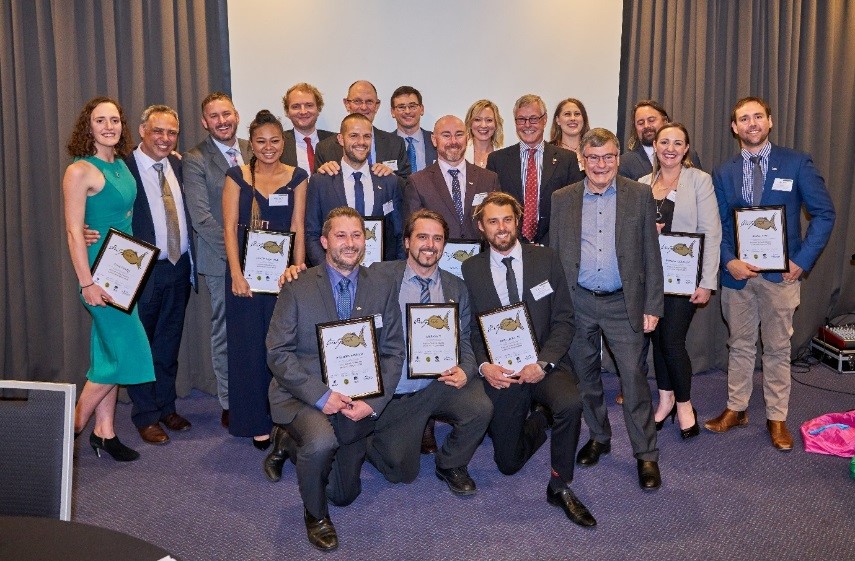 Emerging leaders of the seafood community from the late stream of the 2018 National Seafood Industry Leadership Program (NSILP) met in September to conclude training and present their vision for a united seafood community. This year the program was increased to accommodate an early and late intake and SFM were again proud sponsors for the entire program for 2018. The program is an industry-specific program for people wishing to take up leadership roles within the seafood industry. The program is funded by Fisheries Research and Development Corporation on behalf of the Australian Government and is facilitated by Affectus.
To conclude the program, a mission and strategies launch was held in Canberra to provide industry and key stakeholders with insights from the six months program. The launched was followed by a graduation dinner to provide an opportunity to celebrate the achievements of the participants. Each year SFM offers scholarships for industry representatives to participate in the program. Stephen Masters (SFM quality, health, safety environment officer) as well as Joshua Cook (fisher from Coffs Harbour Fishermen's Co-operative) and Andrew Bollinger (fisher and engineer from Newcastle) were awarded SFM sponsored positions to participate in the 2018 program.
2019 National Seafood Industry Leadership Program Sponsorship
Applications are now open for SFM sponsorship of 2-3 staff/industry representatives to attend the National Seafood Industry Leadership Program in 2019.

If you would like to be put forward by SFM as one of our sponsored candidates, please download and complete the application form available for download by clicking the button below and return it to Stephanie Williams, marketing and communications manager by emailing stephaniew@sydneyfishmarket.com.au by Friday Jan 11th (do not send it to the address on the form). You do not need to fill out the 'nominated by' section. If you are selected, then Bryan Skepper will act as your nominee into the next stage.
We encourage all staff and industry representatives who are interested to apply for consideration.
Eden Whale Festival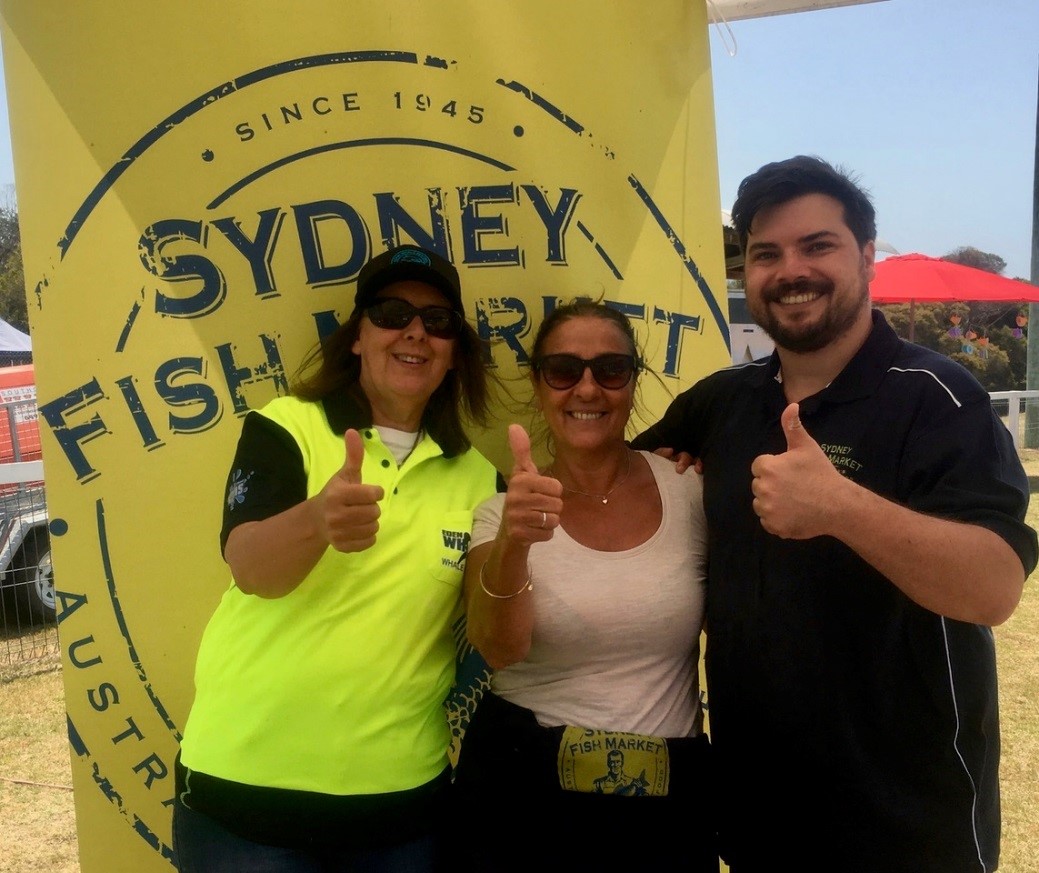 Held in November, the Eden Whale Festival is a community event combining whale watching from shore and sea with live shows, hands on family fun, outdoor entertainment, photography, film, music, seafood and local produce.
SFM was a proud sponsor of the local seafood showcase with SFM Tour Guide Alex Stollznow conducting a cooking demonstration to help promote healthy consumption of underutilised Australian seafood.
Harris Community Scholarship Fund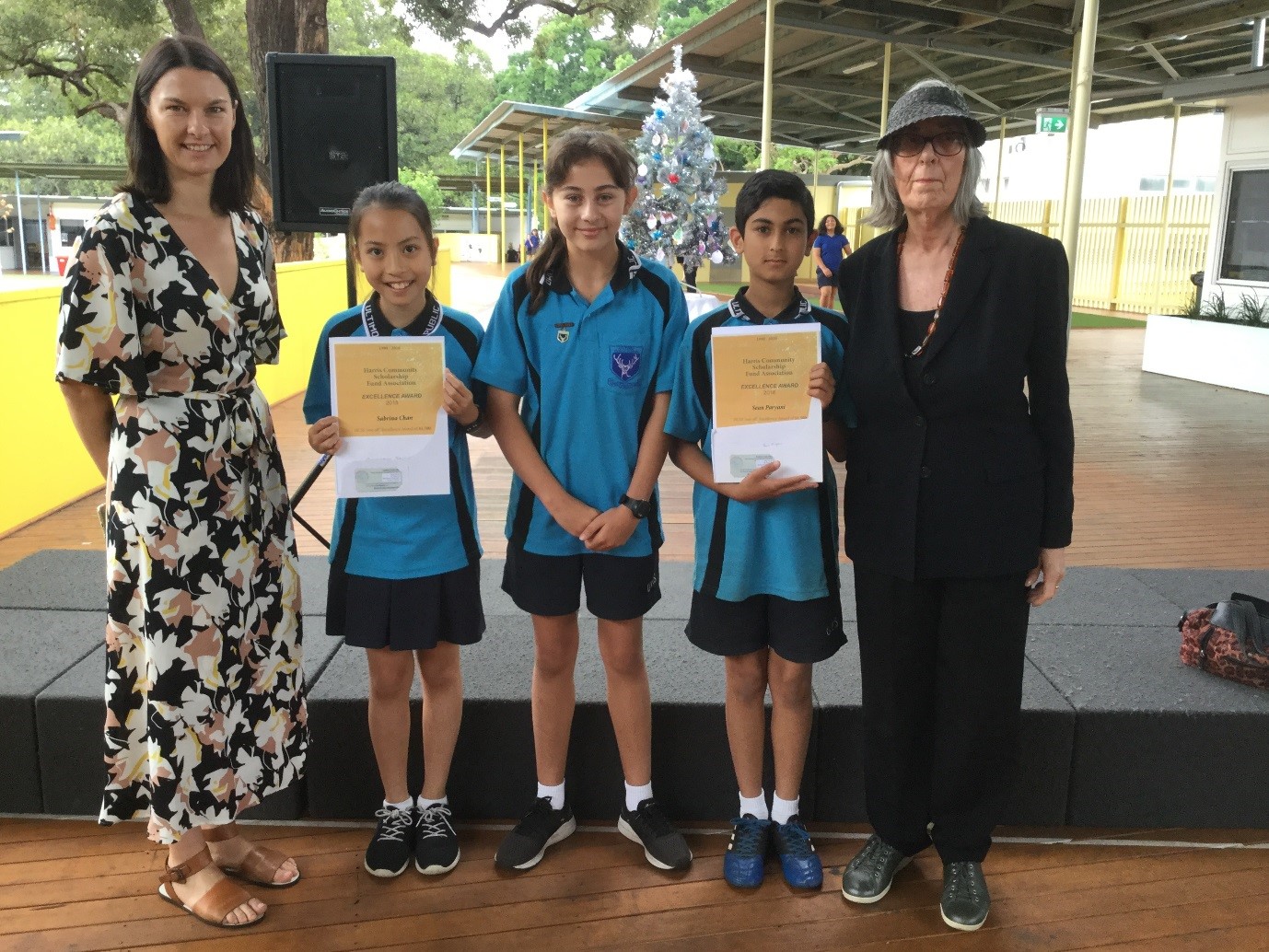 SFM continues to be a key supporter of the Harris Community Scholarship Fund, each year providing an educational scholarship to a student from Ultimo Primary School to see them move through high school and beyond.

This year's HCSF recipient is Tamaki Tague who is passionate about art and music. Each of the other applicants received an award for their efforts.
The 2018 presentation marked the final year of the scholarship in its current format. As of next year, SFM will continue to contribute to the fund which will be used to benefit all the Ultimo Public School students via new educational programs and activities that complement the existing curriculum and align with SFM's values.
2018 Safework NSW Mentor Program graduation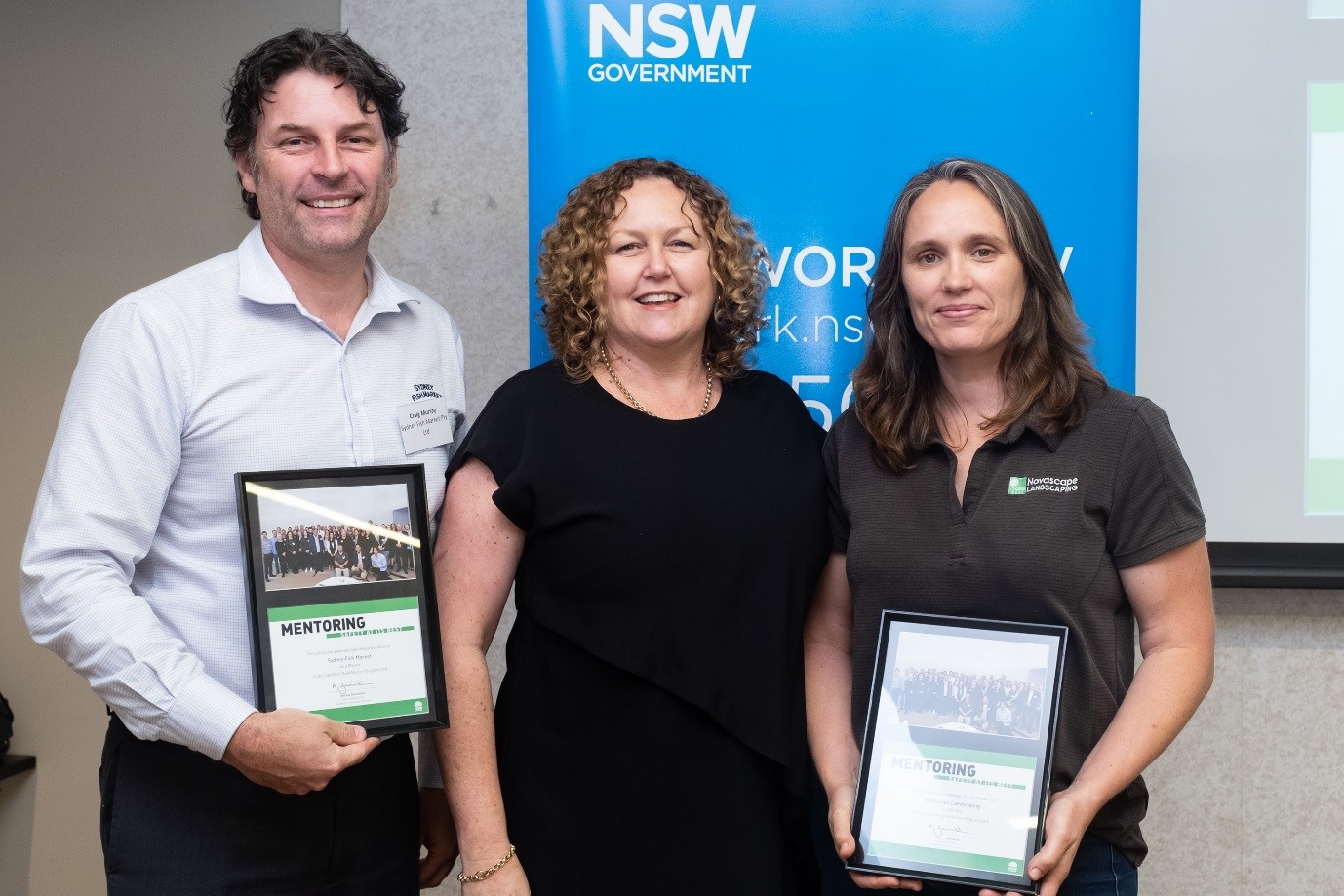 In December, SFM's Craig Murray attended the 2018 Mentor Program Sydney Metro graduation to celebrate the successful graduation of his mentee Sheridan Armstrong from Novascape Landscaping, Newcastle. The Mentor Program matches business safety experts with small businesses, to identify new ways to address safety. Experienced businesses share their knowledge, skills and expertise for free.
SFM has been participating as a mentor for three years and the program is now in its 11th year. All small business mentees that graduated from the program recorded an increase in awareness, knowledge, confidence and willingness in managing safety in their workplace and an improved perception of SafeWork NSW.
Applications are now open for the 2019 program. More details about the program and application form can be found
HERE
. For more information on the program, please contact Craig Murray, SFM's quality, health, safety and environment systems manager by emailing craigm@sydneyfishmarket.com.au.
| | | |
| --- | --- | --- |
| 21/12/18  |  Friday |  5.30am |
|  22/12/18 | Saturday  |  4.30am |
|  23/12/18 | Sunday  |  No auction |
|  24/12/18 |  Monday |  No auction |
|  25/12/18 |  Tuesday |  No auction (Christmas Day) |
|  26/12/18 |  Wednesday |  No auction (Boxing Day) |
| 27/12/18 | Thursday | 5.30am |
| 28/12/18 | Friday | 5.30am |
| 29/12/18 | Saturday | No auction |
| 30/12/18 | Sunday | No auction |
| 31/12/18 | Monday | 5.30am |
| 01/01/19 | Tuesday | No auction (New Year's Day) |
| 02/01/19 | Wednesday | 5.30am |
Welcome
SFM would like to share a warm welcome to Brok Pardey and Zak Sakaria who joined the market floor team recently as market floor operators. We would also like to welcome Paul Morgan who joined us in December as chief accountant, to replace Vicky Burgess who has relocated to sunny Queensland with her family.
Congratulations
To celebrate the end of year, SFM would like to take a moment to congratulate a number of our staff for achievements and milestones.
Length of service milestones:
15 Years: Brett Meaney, afternoon shift team leader
10 Years: Bobby Rabindra, night shift team leader; Fiona Baxter Sydney Seafood School presenter; Nareerat Milinthangkul (Grace), Sydney Seafood School assistant
5 Years: Sandra Hook, director; Stephanie Williams, marketing and communications manager; Sam Turagadamudamu, market floor operator; Alex Stollznow, tour guide; Nora Kovacs, executive assistant to general manager
Recognition
Stephen Masters, Ron Dorran and Bill Harland
Outstanding work this year included a joint effort by Ron Dorran, Steve Masters & Bill Harland with regards to the waste management system. SFM identified a weakness in our system and the trio work together to find the best operational solution for the site which will result in a cost saving of around $500k per year in labour and waste related costs whilst increasing our recycling efforts.
Stephen, Ron and Bill have been constantly coming up with minor improvements and innovative solutions to take us to a better place than we were 12 months ago.
Erik Poole
Erik was recognised for his hard work, can-do attitude and the application of his knowledge and professionalism to grow the business and continue to represent SFM in a positive manner. In the past twelve months Erik has spent a considerable amount of time researching and promoting the expansion of SFM's live seafood trade and with Andrew Skelly's assistance, has grown the range of products traded through our non-auction trading platforms. Erik applies himself unreservedly to any task that he is given as well as increasing his involvement in the seafood industry with representation at Safefish, New South Wales Research Advisory Committee and New South Wales Seafood Industry Forum, Young Food Innovators Future Leaders Program and the Leaders Edge Master Mind Program as well as acting on behalf of Bryan Skepper when required.
Louise Morrison
Louise initiated a change in careers leaving her position in the finance department to pursue a position as SFM's first internal human resource manager. She commenced postgraduate study through Australian Human Resources Institute to become a certified human resources practitioner.
Since taking on this new role, Louise has been active in contributing to and developing SFM's staff culture and provided a high level of support for staff and managers.
Kelly Seagrave
It is not every day that staff volunteer to take on extra work, but Kelly has been recognised for her initiative and effort in submitting SFM for the NSW Business Chamber Tourism Awards and initiating and coordinating the SFM 'walking club' in an effort to create a healthy and relaxing social activity for staff.
Although SFM didn't win the award, we were proud to be recognised as a finalist. A significant amount of effort was required by Kelly to prepare the submission.